Clock museums in the Black Forest
Along the "Deutschen Uhrenstrasse" (German Clock Road) there are many museums that document the history of the Black Forest clock and the great importance of clock making in the region.
The most famous museum of its kind is the
"Deutsche Uhrenmuseum" (German Clock Museum)
in Furtwangen, which has a 150-year tradition in the industry.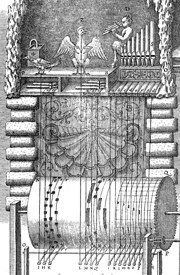 The impressively comprehensive collection of Black Forest clocks is unique. However, also international clocks are on display. In total, the Deutsche Uhrenmuseum owns over 8,000 articles, which reflect on the history, development and tradition of the clock.
The Stadtmuseum Schramberg not only gives an insight into the town history, but also an overview of the development of the Black Forest clock und how its production was moved from living rooms to industrial workshops. The importance of the clock industry on the town and it's population is illustrated in this museum. The highlight of the exhibition is the Junghans'sche Kunstuhr, which was displayed at the Expo 1900 in Paris for all to admire. The sufferings of Christ are depicted artistically and detailed in eight sequences.
Ornately designed Black Forest clocks and a true to original reproduction clock workshop as well as Black Forest furniture and farmhouse parlour are open to visitors in the Heimat- und Uhrenmuseum in Villingen-Schwenningen. Additionally the Uhrenmuseum provides a chronological overview of the development of clock manufacturing from the beginning, up until industrial production.
The Uhrenindustriemuseum can also be found in Villingen-Schwenningen. Here, you can personally experience the industrial clock production. Old production techniques are shown using the machinery in the old factory building. Former factory workers also explain their traditional methods of work. The program is complemented with the social history of the time.